Call History is is a free call-tracking feature from Google for businesses who use Google Business Profile, formerly called Google My Business. This feature allows Google's servers to collect information on calls to businesses that resulted from a call click on your Google Business Profile. This is a relatively new feature that is still working some bugs out but every day improves. The data collected allows you to see a "call history" in your Google Business Profile to help you: 
Measure your businesses' call answering performance.
Identify which calls you missed, which ones to return or follow up, etc. 
See which calls and people are finding you from your Google Business Profile.
How Google Business Profile Call History Compares To Other Paid Call-Tracking Solutions
When Call History is turned on, clicking the "call" buttons on your business listing will trigger a call to a Google number which forwards the call to your business number. Doing this allows Google's system to "listen in" and report back on the calls that came from the buttons off your listings. 
As mentioned before, there are a few issues that occur from time to time with the Call History feature. 
You have no control over the number assigned to your business. These numbers will typically have the same area code as your business phone number. 
The Google number assigned to your business is not linked to your business' number just the "call" button itself. 
There are a few other issues, but these are the 'major' issues that have ben noticed thus far. That being said, these minor limitations do not discount the benefits of measuring call performance, missed calls, etc. of your business all for FREE. 
Any paid call-tracking solutions like CallTrackingMetrics will provide you with a lot more data on your calls. However, these more in-depth features cost money and the value depends on each service. 
As a free service Google handles the basics but is limited by comparison to paid options.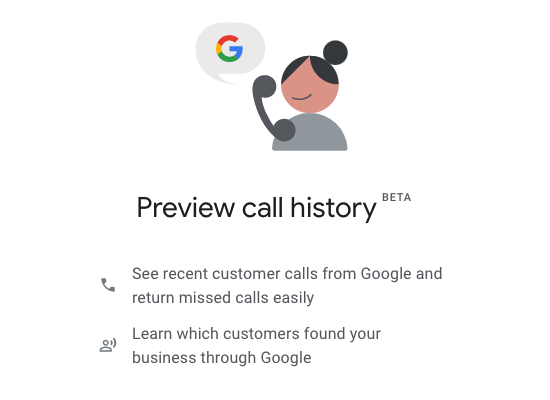 Reasons Why Your Should Turn On Call History
Many business owners, including ourselves, feel compelled to jump at the first opportunity to use a new Google product for business owners, especially when it is for local business owners. The optimization of the Google Business Profile product is widely considered to be the most powerful tool available to local businesses to help increase online visibility. 
As a free service, Google's Call History most likely is being listened to every moment you get a call but we don't know how deeply they are listening. The data Google received from your calls uses AI for transcription, sentiment analysis and more to help perform better. Google may also use this data to rank local businesses better. 
If you are a legitimate local business who does well with answering phone calls from customers you will definitely want to turn on Google's Call History. Despite the 'data breach' concern this is an amazingly beneficial tool, especially if Google will use the data to rank local businesses.
The Google Business Profile Call History is a relatively safe product that's value propositions include gaining visibility into your call performance and the value out of every call. 
As a business this feature can help you perform better on your call performance, ensure no customer/potential customer is missed and potentially help your business rank better locally. Overall this tool is a great step in increasing your SEO efforts and helping your business perform to its full potential.
If Your Google Business Profile Is Not Performing, Contact Us Today!
I'm responsible for content creation for our clients to grow in multiple places like social media, SEO, Google, etc. The content includes blogs, social media graphics, updating information on clients' websites, and creating ads on several platforms. He loves getting to experience every aspect of content marketing and having the opportunity to learn new things every day.