With more ways to market your business than ever before, such as Facebook and digital radio, does email marketing really generate revenue and grow your business still? Compared to the latter email marketing can seem outdated, but we can present five ways that email continues to prove its worth.
1. The ROI rate for email marketing is $36 for every $1 spent.
According to Litmus, email marketing provides the highest return on investment (ROI) rate over any other digital marketing platform. The $36 benchmark is just the beginning. There are several ways to increase this amount such as: utilizing live content, running a/b testing, and event incorporating gifs.
2. Email grows your business.
In a study by Insider Intelligence, 80% of business professionals claimed that email marketing drives customer engagement. A major factor for this belief can be drawn to the personalization aspect that social media lacks. Email offers the opportunity to address clients by first and last name (increasing open rate) and recommend items the customer might have already purchased or looked at on the site.
3. Email is a worldwide platform.
While different social media platforms hold different weights in audiences, email users are composed of about 4 billion people worldwide. This study by Radicati also goes on to state that another half a billion people will be utilizing email by 2024. This means that your business will have access to an audience that might not be present on social media.
4. Email marketing is more likely to drive sales than social media.
While social media is an excellent tool for growing brand awareness, it can't keep up with email when it comes to eCommerce. Optinmonster breaks down this comparison perfectly, in their survey, 60% of consumers said they have made a purchase after receiving a promotional email. Whereas only 12.5% of people feel inclined to make a purchase directly from a social media ad. So when it comes to moving units and getting products out the door, your money would be better invested in a promotional email campaign.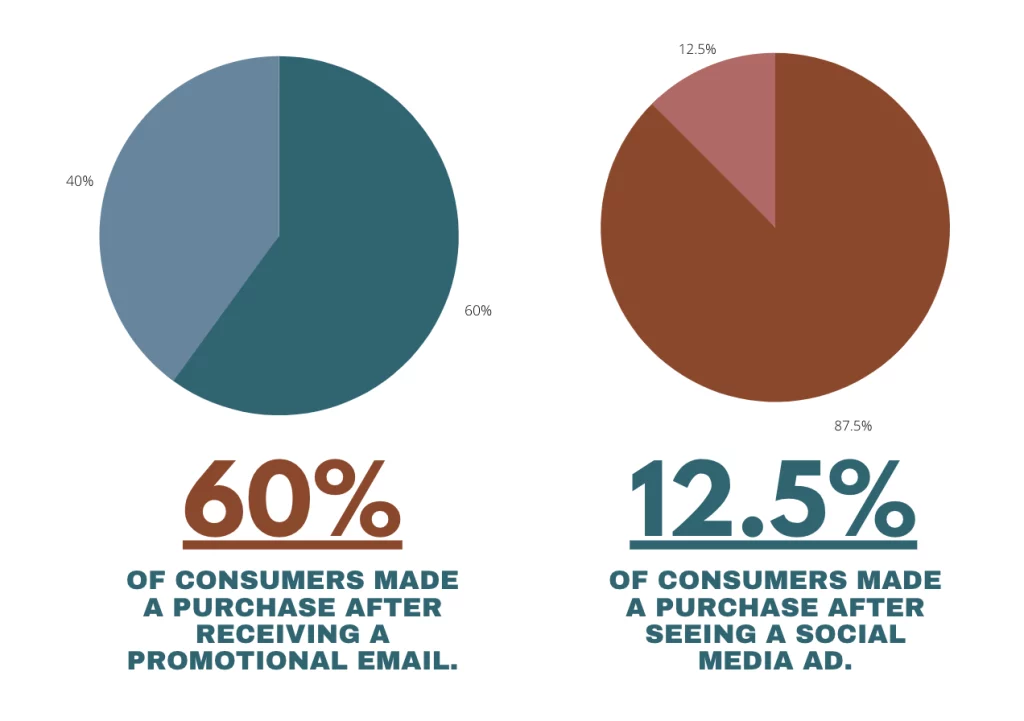 5. Email automation can save you a ton of time (and money).
Depending on which email software you decide to build your business with, automation can do the work for you and save plenty of time (and money). You can customize your account to send out welcome emails when someone signs up for your newsletter or a follow-up for those who are shopping on your site. This can save business owners countless hours, and create a rapport with potential customers without even lifting a finger.
Thinking of expanding your reach and exploring how email marketing can grow your business? Reach out to our team today to start a discussion on how your company can benefit from an email plan.
I'm responsible for content creation for our clients to grow in multiple places like social media, SEO, Google, etc. The content includes blogs, social media graphics, updating information on clients' websites, and creating ads on several platforms. He loves getting to experience every aspect of content marketing and having the opportunity to learn new things every day.