Is it worth it for small businesses to invest in Google Ads to find new customers? When performing a Google search query, it can often be a daunting task finding exactly what you are looking for. Luckily, Google's search engine algorithms and machine learning work hard to curate accurate search results for every search query. Google presents both organic search results and promotional ad results based on the user's search to ensure the customer experience is as valuable and user-friendly as possible. Without a doubt, this benefits both consumers and business owners. For business owners looking to target potential new customers, they should look at harnessing the power of Google's Search Ads and Display ads which operate on a pay-per-click (PPC) basis. You heard that correctly—as a business owner looking to maximize revenue on ad spend, you will only pay for customers who click directly on your ads.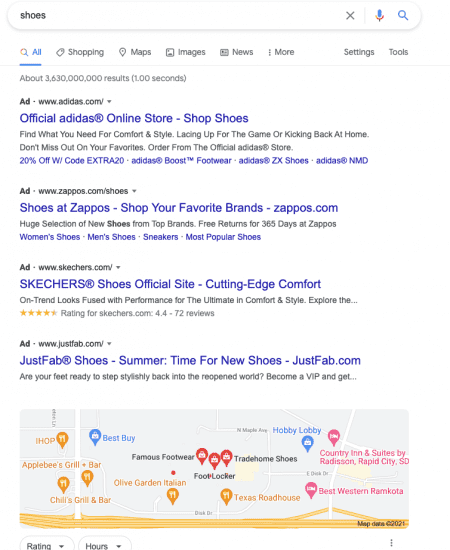 With Google's sales conversion tracking, you will be able to see how strong your ad campaign is performing with additional metrics and tools to continually optimize the ad campaign. Without a doubt, Google's PPC search and display ads are a practical way to reach new customers! Lets look at some of the tangible benefits from running a well built Google Search or Display Ad Campaign!
Are Google PPC Ads Beneficial For Your Small Business?
Google Ads campaigns can be an effective tool for both small and large businesses who want to reach new customers, or target repeat customers. The efficacy of the ad campaign all depends on your business definition and current marketing goals. Google offers numerous conversion metrics to provide feedback on customer behavior as they navigate through your sales funnel. These metrics offer different targeting strategies with different benefits and will help you make educated decisions as you optimize your Google Ads campaigns.
Google Ads are only advantageous when you optimize them according to Google Ads best practices in relation to your marketing goals.
1. Reach People Who Are Actively Searching For Your Products or Services
Using the right search keywords with your Google PPC ads can place your website offer in front of potential customers at the exact moment they are looking for products or services you offer. What keywords you choose for your ad campaign will determine who sees your ads. Timing is everything, and nothing deserves more attention than an effective Responsive Search Ad which places an effective call to action in front of your new customer at the exact moment they are searching for your product or service. 
2. Get Immediate Results for Your Business
Without a doubt, Google Ads can offer immediate results for your business, especially if you are targeting customers who are actively searching for your products or services. Building a website that performs well in search results can take time, sometimes months or even years depending on who is ahead of you. By activating the power of Google Ads, your business website can place above the competition, giving you a headstart in the sales process. 
3. Target multiple audiences and different demographics
Google Ads provides custom audience segmentation and demographic targeting that will allow you to target customers who may be interested in your product or service, or those who are actively searching for them. For example, if you are a healthy food store, you could target potential customers who enjoy exercise and healthy eating blogs. Or, you could target the age group that is most likely to be focused on health and wellness improvement by doing some marketing research and creating an audience segment that targets specific age ranges. 
4. Target Customers Based On Geography
Most local businesses do not want to appear in search results outside of their targeted service area. Luckily, Google Ads allows you to target your ads based on geography which can help you remain visible to potential customers near your store. Google Ads allows you to target customers by location, whether that be by country, state, county, zip code, or target radiuses at least 1 kilometer in size.
5. Send people to different landing pages (to increase the chance of conversion)
When a customer clicks on a Google Ad, they are sent to a specific landing page on the business website. Google allows you to create additional sitelinks beyond the standard home page so that customers find exactly what they are looking for. Are they looking for more information? Create a sitelink for an "About" section. Are they wanting to contact your business? Add a custom sitelink to your "Contact Us" page. The more relevant the page, the more likely the potential customer will convert and become a new customer.
6. Monitor results with ease
Google Ads has a plethora of conversion tracking tools to accurately depict user behavior once they view and (hopefully) click on your ad. Measure important data metrics such as Click-through-Rate (CTR), Clicks, Cost-Per-Click, conversions, conversion rates, and more. Google PPC ads are an attractive resource for marketers and business owners alike who are looking to make informed decisions based on the marketing data. Ultimately, sales conversions and the return on investment for your business is the most important metric that matters.
Google Ads: A Powerful Resource for Businesses of all Sizes
Whether you're a business owner who is just starting out, or a large corporation, if you have the need for immediate results Google Ads can be a powerful tool to put you above the competition. Google Ads campaigns have many different formats and customization options. With the ability to target new customers and existing customers based on demographics, interests, and active search queries, Google Ads targeting options will help you find the right customer, at the right time.

Interested in launching a Google Ads Campaign for your business with Dot Marketing? Contact Us Today!