In today's business setting, a lot of businesses are relying more and more on their Facebook pages to reach and engage with customers. Like anything though, Social Media for business comes with its pros and cons. One thing that has been circulating on Facebook recently is a Notification stating "You've gone against community standards and are at risk of your page being deactivated." This is a SCAM that could lead to your business page being hacked!
This image is an example of the pages that are being created to try to get you to click on the link, exposing you and your business.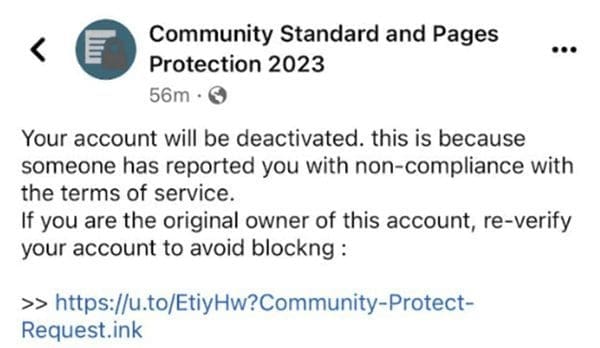 Here are a few helpful tips and tricks to keep your Facebook account secured.
Be mindful of where the notification is coming from. Typically Facebook will not notify you via your Facebook Page but through email. When you receive an email that appears to be from facebook, verify the email address that sent the email to ensure it is official Facebook communication.
 Facebook will NOT give you a rushed timeframe for deactivation, they will just deactivate your page without warning.
 See where the notification is coming from. Is it another Facebook page name or Meta Support? In the example given earlier, the notification about a violation is simply a page name someone created. If it feels weird, it probably is.
Always have TWO-FACTOR Authentication enabled on all Social Media accounts.
Always have yourself and someone else as a Facebook Manager of your Social Media assets. That way if you are to get locked out, you have someone else that can regain access.
Losing your business page can be crippling if you rely on Social Media for customer correspondence, appointment setting, and advertising. That's why it's crucial to ensure social media is just a part of the equation and not your only source of bringing in new business.
Long story short, don't rely solely on Social Media to run your business! Always have multiple funnels set up for your customers to find and engage with you outside of social media. This could include a Google Business Listing, Website, Ads, and more!
If you are looking for helping managing your presence on social media, or looking at your overall marketing strategy, give us a call at 605-519-5740 or learn more online at DotMarketingSD.com/social-media-marketing.
Corinne fits into our team by creating and building relationships with local business owners, assessing their needs, and their goals, and then mixing it all together to make a stellar marketing plan. One of Corinne's greatest strengths is her ability to listen carefully to her clients and truly understand their needs. By taking the time to understand their unique challenges and goals, she is able to develop customized solutions that help businesses overcome their marketing obstacles and achieve success.